Every day, there is a new anti-aging treatment or product on the market (facial massager, stem cell injection anyone?). How do we know which is the best for us? Does effort equate results?
We send three of our beauty testers over the age of forty down to test-drive three latest anti-aging methods that are popular on the market right now. What we wanted to see was the time spent over the course of a month (30-day) versus the results they produced. Here is what they found.
Read more: CHEST PERFECT – TREATMENTS TO REJUVENATE YOUR DECOLLETAGE
900 minutes : Daily Facial exercises for a month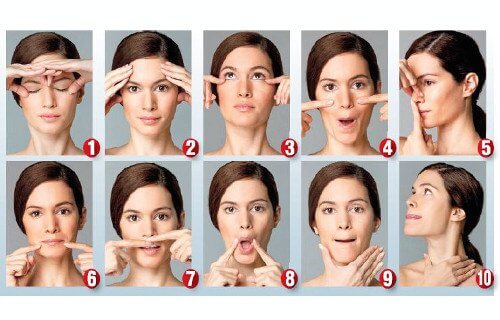 Facial exercises are all the rage these days. The enthusiasm stemmed from a study, published in Jama Dermatology which found that middle-aged women looked about three years younger after a few months of exercising. As all of us regrettably know, the human face changes with age. It begins to accumulate grooves and wrinkles that connote either lengthening years or deepening character, depending on your viewpoint, and starts, almost invariably, to sag. This sagging occurs in large part because the fat pads that underlie the skin on our faces thin with age.
When we are young, these pads snuggle together like Lego pieces, providing much of the structure of the contours of our faces. But as the pads change with age, their connections loosen and gravity draws them downward, leaving cheeks hollowed and visages generally droopier.
In recent years, a number of facial exercise programmes have become available that claim to be able to reverse many of these visual effects of ageing.
I embraced my facial exercises with gusto. It took about 30 minutes to full complete the set of ten exercises recommended. The first few days were fine but by the end of the first week, there was a sense of exhaustion and dread. Still, I persisted through the 30-day challenge.
Read more: DEFIANTLY BEAUTIFUL – 5 HOLLYWOOD ACTRESSES WHO TOOK BEAUTY INTO THEIR OWN HANDS
Results: I cannot see any noticeable difference in her face. However, granted that these are mere exercises, a longer time period may be needed. The overall consensus is that this is not for a quick fix. It may be a good adjunct for the very motivated but it may not significantly reverse any visible signs of ageing. There is substantial time investment, and while I initially thought I could save time by doing it during her daily commute, I eventually abandoned the idea after stares from my fellow commuters. A word of advice: It is also best to do this in front of a mirror to make sure you are working the right muscles and to get optimal results.
Difficulty rating: 5+
Results: 1+
Read more: BEAUTY TAILORED FOR YOUR FACE SHAPE
240 minutes: Weekly Facials for a month
There are so many facials to choose from but when I told Dr Kenneth Lee
that my aim was to rejuvenate my skin, he suggested the 24K Uplift facial which uses Sygma lift's HIFU technology. It sounded "science-sy" enough for me, so I jumped right into it.
Of course, the reason why I had volunteered for the facials was because I had a phobia of needles and an aversion for downtime and pain. So I was euphoric to find that the 24K Uplift was totally painless. The first time I had it, I fell asleep right in the middle of it. I did wake up before the therapist moved on to the other side of my face, and in the interest of science, asked for a mirror to compare both sides of my face. Half expecting little to no results, I was over the moon to see an actual lift on the treated side!!! I thought I had found the golden grail to youth. I was told that regular facials will help the results cement itself over time so it is more long-lasting.
Results: Having one facial a week was a little taxing on my schedule but soon I learnt to use it to catch up on much needed shut eye or listen to my audiobooks (to the annoyance of the therapist I imagine). Perhaps because I went in as a skeptic, the series of weekly 24K Uplift really made a difference to my face. It wasn't the kind of difference one would  get from plastic surgery, rather I started getting compliments of having slept really well, what kind of foundation was I wearing, was I seeing a new man? I can't say I have the will-power (nor the money) to continue this forever but this will definitely be my go-to treatment if I need a quick pick-me-up.
Pain rating: 0+
Results: 4+
Read more: WHAT YOUR FACE SAYS ABOUT YOUR HEALTH
90 minutes: One session of Ultherapy
I spoke to Dr Low Chai Ling on my options of having something done in under 90 minutes that would make me look years younger. She patiently listed me my options: an Infinity V-lift or Ultherapy. I did like the idea of having instantly lifted skin and a more defined jawline but was slightly hesitant about needles as Infinity V-lift uses facial threads. So I opted for Ultherapy instead. Judging from my aversion to discomfort, Dr Low further explained that I could have the procedure using just numbing cream or under sedation. I was happy that she had taken the trouble to give me my options to make me as comfortable as possible. Normally, I would have jumped at sedation but that would meant I would have nothing to write for my article, so I reluctantly declined sedation and opted for numbing cream instead. Ultherapy uses microfocused ultrasound and at SW1 they do it as part of a Trinity facelift program, combining it with Thermage and Sygma Lift for a 3D lifting effect. The ultrasound felt like little pricking of needles  which was mostly comfortable but slightly tender around bony areas such as the jawline. However, Dr Low was so reassuring and her hands were so  low skillful and quick, that she delivered the treatment effectively and it was over in no time. I thought I was going to jump up and leave, but she followed it up with a Sygma Lift therapy and a special silver ion mask which felt like a warm hug over your face— very comfortable.
Read more: DO WEAR 1½IN HEELS. DO WEAR MAKEUP. AMAZINGLY SIMPLE WAYS TO STAY YOUNG ACCORDING TO EXPERTS
Results: Dr Low had spent some time explaining to me that Ultherapy's key strength is in delivering a long term lift that lasts, that is why people don't have to do it more than once a year. However, it may take some time for the full lifting effect to become apparent. In the immediate days after, I did notice a slight improvement in my skin but admittedly, it was less than I imagined it to be. However, by the end of the first month, I started noticing a dramatic improvement to my jawline and the overall facial shape. Did you lose weight? Was the reaction of some of my friends. Even my ever critical mother commented I may gave finally lost my baby fat (at a ripe old age of 40?) and looked much better. What I like is that I didn't have to spend much time  over the course of the month  to achieve the results that I had gotten, and more importantly, I do not have to spend much time over the next year to maintain my face. Great!
Pain rating: 2+
Results: 5+
Read more: THE TOP 3 BEST BEAUTY UPGRADES OF 2018