It's time to get creative with your skin care! These skin cocktails use supercharged ingredients with extraordinary benefits, made even more superior by combining them with other synergistic actives. Some are delivered via special facial methods such as sonophoresis while others can be simply applied onto the skin. Find the best beauty cocktails for clearer, more youthful-looking skin.
Read more: Anti-Aging Methods—Hits or Misses?
What is this: A skin whitening ampoule of Glutathione, rice callus culture extracts & carrotcullus culture extracts work in synergy to aid the clearance of blemishes and skin pigmentation, while boosting skin health to glow at their most radiant. Glutathione is one of the most powerful antioxidants, playing a pivotal role in reducing melanin (pigment) synthesis through its tyrosinase inhibitory activity. Additionally, Pearl éclat does double duty of mopping up free radicals, purging skin of deleterious toxins, supporting the perpetuation of a healthy and porcelain complexion.
When: Best after a laser or a deep cleansing facial when your skin is primed to drink in the goodness of this brightening youth-enhancing cocktail. As this is a potent cocktail of active ingredients that must be administered in-clinic, it is usually infused into the skin using sonophoresis, a process using sound waves, for maximal penentration.
Why we love it: Our skin looked brighter and fairer after one session. In addition to improvement in suppleness and skin tone, it also aids skin healing. When used regularly, it helps turn back the aging clock.
Read more: The Secret To Getting Defined Cheeks Revealed
Read more: An In-Office Treatment That Completely Cleared Up One Woman's Skin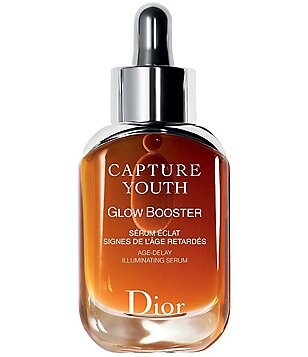 What is this: An age-defying skincare regimen with innovative antioxidant technology capable of delaying visible signs of aging before they appear. Glow Booster uses ingredients such as vitamin C and AHA combine to brighten and even skin. :
When: Best used on clean skin, after priming skin with toner. Apply a few drops with your fingers over entire face, concentrating on areas of concern such as wrinkles and lines.
Why we love it: This serum works for a multitudes of concerns from fine lines and wrinkles to dullness and uneven texture. Light enough for daily use yet potent enough to make a visible impact on your complexion.
Read more: DEFIANTLY BEAUTIFUL – 5 HOLLYWOOD ACTRESSES WHO TOOK BEAUTY INTO THEIR OWN HANDS
Read more: DO WEAR 1½IN HEELS. DO WEAR MAKEUP. AMAZINGLY SIMPLE WAYS TO STAY YOUNG ACCORDING TO EXPERTS
Read more: Looking Too Young For Your Age is now IN
What is this: ATP (Adenosine triphosphate) is considered by biologists to be the energy currency of life. This includes the synthesis of DNA. Aging is a complex process and granted, there are many players involved, but ATP or the lack of it, is a leading factor. Happy Ending ensures your skin receives nothing but its namesake with a potent cocktail of adenosine, beta glucan and glutathione, specially formulated to keep your skin youthful for longer. Women of all ages will benefit from this skin reviving treat that keeps your skin cells in peak condition.
Studies have shown that adenosine to visibly reduce wrinkles and improve healing in skin.
When: Due to the active ingredients, this in-clinic treatment (only available at SW1 clinic) is infused into the skin using sonophoresis. It is best done after a deep cleansing facial or a laser when the skin is best primed to absorb the full benefits of the active ingredients.
Why we love it: We love it because it is one of the very few anti-aging treatments that a combination of active ingredients such as adenosine, beta glucan and glutathione. And the results are visible almost immediately after treatment, manifesting as a boost in skin tone, texture and suppleness.
Read more: THE LATEST INSTAGRAM BEAUTY 'TREND': #SKINPOSITIVITY #NOFILTER SKIN
Read more: The Latest Instagram Beauty 'Trend': #skinpositivity #nofilter skin