The return of leg-baring outfits might be bad news for those who dislike the look of their knees, but there is a solution.
While tuck-shop arms, saddlebags, a troublesome mid-section or a jiggly butt are more common bugbears, ageing knees (defined as sagging skin due to the loss of elastin and collagen) are an area of increasing concern for many women. "If you've got saggy knees, you become conscious of every outfit you wear," says Dr Low Chai Ling, founder of SW1 Clinic who's seen a rise in women unhappy with the appearance of their knees.
Poignantly, despite legs being one of the sexiest areas of the body, the knees are decidedly unsexy in every way, shape and form. Is it the asymmetric wrinkly folds of skin? Or the uneven skin tone and irregular knobby bits?
They're often forgotten about, your lowly knees, until you slip on the first skirt of the spring or a pair of shorts in the summer. Dry skin may make them look ashy, while age or weight loss may make them look saggy. With an arsenal of knee-foiling knee agers against us, is there hope for a mini-skirt after 40? Well, as some famous superagers from Christie Brinkley to Madonna have shown us, age should never get in the way of baring some skin, as long as you have your aesthetic doctor on speed dial. Here are 4 ways to get your knees to look so young, you won't want to hide them in pants ever again:
Read More: 10 Things You Should Know Before Getting a Boob Job
SMOOTHEN
Mild fix:          The skin on your knees is thicker than other areas to offer extra protection to your joints (the same is true of your elbows), so dryness and dead cells can accumulate there. Choose an exfoliator that's appropriate for your skin type (go for a more gentle formula if you have sensitive skin). Massage it into your skin using a circular motion and rinse. Exfoliate to remove the dry, dead skin cells twice a week, but no more than that, or you may be sloughing healthy skin away.
Read More: 4 Ways to Reduce Facial Oiliness
Super fix:        If you haven't heard of SmartX Lite laser for the knees, you haven't truly lived. This fractionated CO2 laser shoots out a microspray of skin-renewal carbon dioxide laser beams to rejuvenate and restore the suppleness and elasticity of the skin. It helps improve cell turnover by replacing the old dead cells with newer skin cells, resulting in softer, smoother skin in quicker time. Baby skin for the knees anyone?
Read More: 4 Rules to Live By for Lovely Soft Hands
SOFTEN
Mild fix:          Every day, use a deeply hydrating moisturizer on your knees to lock in moisture. A good option is to use a body-specific oil that is usually formulated to be richer since body skin has less oil glands than facial skin. We found that when we applied Gold retinol Neck Oil on our knees, the super hydrating, quick absorbant oil with its potent vitamin A content transformed it in 3 days!
Read More: Is Facial Threadlift for You?
Super fix:        Knee Peels are the current rage, When fruit acids were introduced for the face, they made soft, glowing skin a reachable target for the common woman. Then backs got into the action as women clamoured to wear sexy backless numbers. Now peels for the knees have gotten such good results that it's made quite a few editors sit up. Fruit acids dissolve dead cells so well, that clients "often exclaim with glee how black the cotton pads turn after a few swipes of the peel" explains Melody, a facialist at SW1 Clinic. According to her, the peels loosen the dead cells and lift off dirt and grime that may not be normally removed by traditional soaps and scrubs. The best thing about knee peels? They leave your skin feeling so soft and clean, they absorb whatever moisturizer you apply on top like a dream!
Read More: How to Rock This Summer's Quirky Trends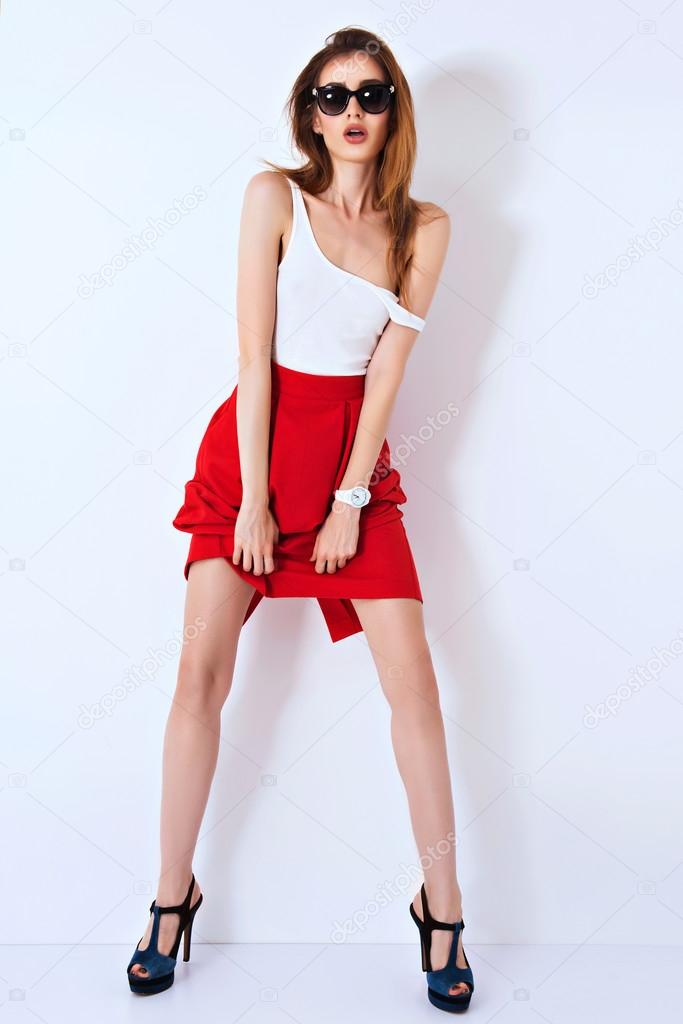 DE-FAT
Mild fix:          For those who want skinny knees without going under the knife, now there's Kybella or Lipodissolve. FDA approved to melt under chin fat in 4-5 sessions, Lipodissolve has also been used off label to treat small pockets of unwanted body fat!
Read More: The Latest Plastic Surgery Innovation You Need to Know: Nanofat Grafting
Super fix:        Liposuction can help sculpt better-looking knees by removing unnecessary fat. "The incision can be strategically placed at the knee or at the groin if you also want your thighs treated" explains Dr Chia Hui Ling, "But keep in mind, surgeries that are further away from the heart take longer to heal".
TIGHTEN UP
Mild fix: The biggest concern surrounding knees is sagging skin. Mild cases can jump into the Body Exilis Magic bandwagon.  This RF treatment promises to firm up sagging skin with results improving over a series of 4-6 sessions. The added benefit is that it can also melt some fat along the way!
Read More: How to Cover Up Dark Circles Like a Pro
Super fix:        For those who want knees to die for, then the answer must surely be in FDA approved Thermage skin tightening. "Results for Thermage on the body has been very good in my patients" says Dr Low Chai Ling "with most seeing results after one session." Thermage works by coaxing your stretched-out collagen fibres to contract and tighten, essentially turning back the aging clock. That was perhaps why Madonna was rumoured to have undergone Thermage of her knees several years ago, even before it was popularized in our part of the mortal world. Studies have shown that combination treatments can yield better results, that's why clinics like SW1 have launched their Bees Knees Program which features both Thermage as well as Body Exilis magic for maximal knee rejuvenation. "Most of my patients above 40 have undergone this at least once in their lives" says Dr Low. In addition to the skin tightening treatments, Bees Knees Program also features their star body mask called Cellumelt II which is said to leave body skin so soft you'd want to eat off it.
Read More: Will Lip Fillers Turn Me Into Kylie Jenner?